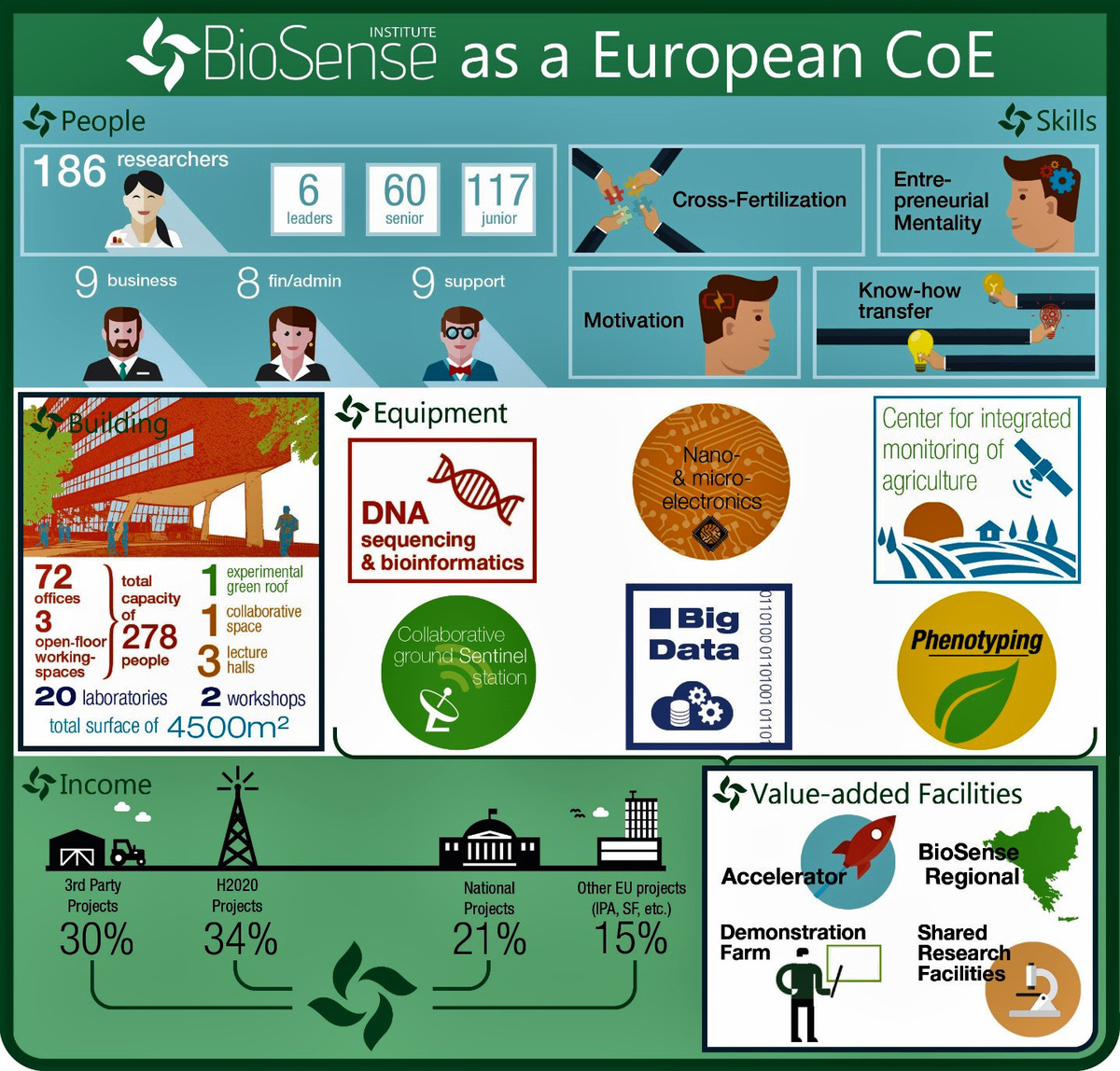 About Us
ANTARES aims to evolve BioSense Institute into a European Centre of Excellence (CoE) for advanced technologies in sustainable agriculture. We strive to deliver disruptive digital solutions to the European farming sector, boost research excellence, stimulate entrepreneurship and employment at regional level, and secure enough safe food for growing global population.
To achieve this, our work focuses on three pillars of sustainability: strong research infrastructure that includes the new building and state-of-the-art equipment, dedicated human resources plan, and scientific excellence. A quantum leap in human resources and research infrastructure enabled by ANTARES will level-up our scientific capabilities.
In our research, we explore scientific and technological frontiers across various disciplines: material science, micro and nano electronics, sensor design, remote sensing, Internet of Things, artificial intelligence, and biosystem research.
To learn more about our research directions, click here:
Center for Sensor Technologies
Center for Information Technologies
To integrate our scientific findings into the society and create impact in the long run, we have created the First Digital Farm in Serbia that provides farmers with hands-on learning opportunities and showcases how different AgTech solutions can be implemented in real-world settings. Besides physical part of Digital farm, we have developed its virtual part as well – digital platform AgroSense that enables farmers to monitor crop conditions and plan activities using mobile phones or computers, based on the data collected from satellites, drones, robots, different sensors and meteorological stations. More than 15,000 registered platform users indicate that CoE is on the right track of delivering the benefits of digital agriculture to the real-life farming sector.
Apart from that, through the BioSense accelerator, ANTARES responds to the needs of the local IT startup ecosystem, by providing both business and scientific support to AgriFoodTech entrepreneurs in the region. As the bridge between entrepreneurship and science, the accelerator will boost entrepreneurial mentality that will be a highly potent remedy for economic growth and – through high-quality job creation – economic development
The increased competitiveness of the Institute at the European level will also be accomplished through a formalized regional initiative – BioSense Regional, aiming to support research and scientific synergies between excellent groups and CoEs in the region, enabling them to jointly create novel solutions, scientific advances and to seek together opportunities for competitive funding.
Finally, ANTARES is deeply involved in creating a supportive and advanced environment for science and innovation in Serbia. To that end, our staff have joined forces with policy makers to draft new national legislation that supports our research community to develop further and become competitive on a global scale. We have been directly involved in drafting new national Law on science and research, the Law on science fund, as well as laws dealing with IP and R&D income tax.